home improvement specialist
Fully Licensed and Insured.
For all your remodeling needs.
Based on 52 Customer Reviews
New Construction Interior, Custom Renovation, Old Home Remodels or Specialty Services. Our knowledge and experience enables us to provide top notch services with reasonable pricing. Professionalism and the highest level of workmanship are our priority. We strive to take your space to the next level.
Why we are the best choice for you
Home Verse begins each project with a complimentary in-home consultation to gain an understanding of your home remodeling goals, project time frames, stylistic preferences and budget. Next, we review our project notes and files to figure out what needs to happen to organize the job and give our clients a 90% accuracy on their estimate. This usually takes about 1-3 days to compose and send the proposal to you. After a contract agreement is written up for the service(s) which is agreed upon by both customer and contractor, the work can begin.
Addition remodel: Prior to this photo the large 550sqft room above the garage was bare and unfinished. The plan was to make the space more accomodating. Drwall was added to walls and ceiling, painted, room for bathroom addition, Window and door framing, and barnboarded accent wall. - Stow MA

A client of ours asked, "How can we make the best use of our 12x12 unfinished basement." We replied, " What do you want that you dont have anywhere in your home?" This lead to the creation of the small Movie Room. Lurxury vinyl flooring, base boards, skimcoated walls/paint, light and outlet inststallation. -Concord, MA

This was a dining room with an old stained carpet, wallpaperd walls and corner to corner wall shelving. As our client stated it was an eye sore, but now it looks like eye candy. Ceiling to floor room remodel. - York ME

Its always important to make your home look the best it can, before placing it on the market for display. This upstairs loft and office had noticable fade marks, scuffs and stains on the surface of the beautiful hardwood floor. In addition, all the walls were in desprate need of new paint. 930sqft of the floors were refinished in a dark cherry finish along with the railing. - Lincoln MA

Four season porch upgrade. Drywall installation from walls to ceiling with recessed lighting to brighten up the space. Carpeted flooring to give a more detailed and cozy feeling. What was once an unfinished seasoned porch is now a functioning part of the home.

-York ME

Master bath renovated. New installation of base cabinets and white granite top. A 5ft mirror was installed under the new vanity light. Freshly painted walls and a custom baseboard to wrap things up. -Lexington MA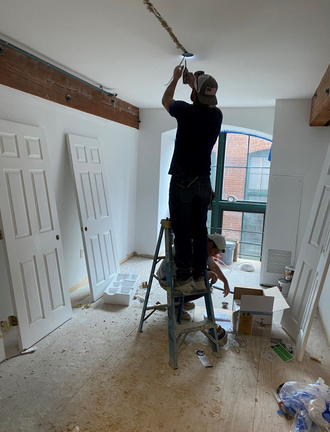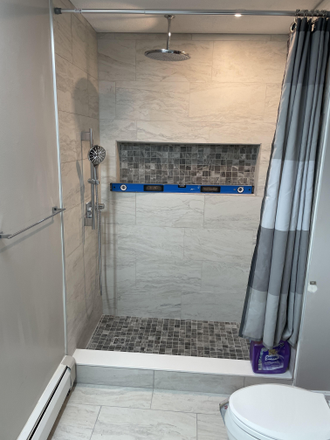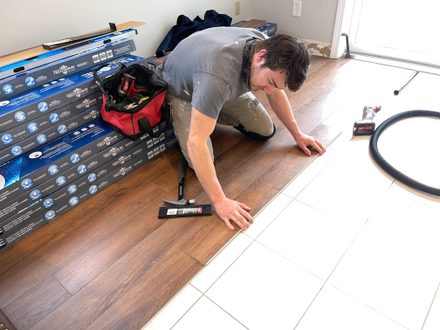 Our Pros are trained and experienced from a name you trust.
Trust that we deliver only satisfactory workmanship for all our Handyman services.
We operate Mondays to Sundays.
Get quality home inprovement services at an affordible price.
"I've hired Victor to renovate my apartment and it was a great choice. He guided me through the process from beginning to end. I couldn't imagine that this process could be that easy. I was so stressed about it. Once we started it was such a relief because they do everything for you... We've painted the entire apartment, changed the floors, ceilings, and wired new lights in our bedrooms, office, living room and hallway. He has an amazing and professional crew everyone is clean, friendly, and Covid protected. Everything was done on time and within the estimate. Now I know the company for my next renovation. Thank you Victor for your help and amazing job.

Best of Luck in your business and life

Sincerely

Devynn and Misha"

"Professional, fast and reliable. We redid our kitchen and we are so happy and relieved that everthing came out so beautiful. Brand new cabinets and counter tops The only drawback was that we had no more projects to do..."

"Recently purchased a home in Brookline where the home was all carpeted with wallpapered walls in every room. Was recomended Home Verse by a colleage to instal new hardwood flooring in my home. Great company and Victor and Alex did a phenominal job on the floors and decided to use them to remove the wallpaper / paint all rooms Thank you guys!"

"We retiled our bathroom due to water damnage Victor and his crew did an exillent job removing the tiled backsplash and rotting drywall and replaced it. Looked as if it was brand new."

"New floors , baseboards and accent panaled walls all done in our bedrooms. The Home Verse team did a great job and were very neat, organized and profestional."

"We needed a statement for some stairs in our company showroom. I was able to get in contact with someone quickly, and Alex came out the next morning to give me a complimentary estimate. The pricing was fair and resonable. They completed the job within our time frame . It was done well, and they made sure to review everything with us before leaving to ensure we were happy. Much appreciated!"

"The Home Verse crew re-hung new cabinets that we orderd from Lowes in our kitchen. They also installed a few lights over our kitchen isle"

Stephanie A., Jan 28, 2021

Client in North Reading MA

"Our sink had been leaking for a few days-called a few plumbers, but everyone was booked almost 2 weeks out. Found Homeverse on Google a few months ago for adding treads on a set of stairs. I asked if they could recomend any plumbers and they were able to quickly have their plumber there within a day. Appreciate their help."

"Good quality and will use them again. for future remodeling in my new home. Great job Victor and Alex."
Book Your Next Home Project With Us
We are here to take your home to the next level. Call us: 617-895-7491